RE: Jsreport online - error Unable to insert an entity with new tenant owner during the import: Error: Entity with name "...." already exists ...
Me again :-)
Now let's say we have a TEST en PROD environment.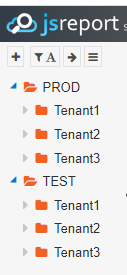 I won't be able to import both PROD/Tenant1/ and TEST/Tenant1/, because of duplicate shortId ...
Would you have any suggestion for that use case ?
I guess the easy answer is to have 2 jsreport online accounts.
posted in general forum